More articles
From a Double to a Triple Nexus to Maintain Peaceful Societies
The Agenda 2030 emphasises that «there can be no sustainable development without peace and no peace without sustainable development». This commitment to building peaceful and resilient societies is also reflected in the humanitarian-development-peace nexus approach of the United Nations Development Programme. With around 60% of UNDP's budget being spent in fragile contexts, it is essential that the agency's interventions not only promote development, but also address the risks that threaten such development processes. Peter Batchelor, head of UNDP's Crisis Bureau Policy and Engagement Team answers the questions of Unité about the triple nexus.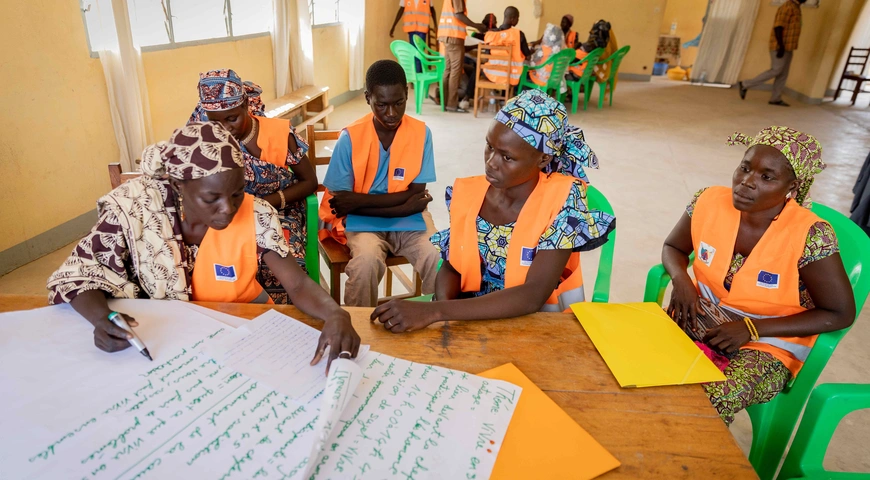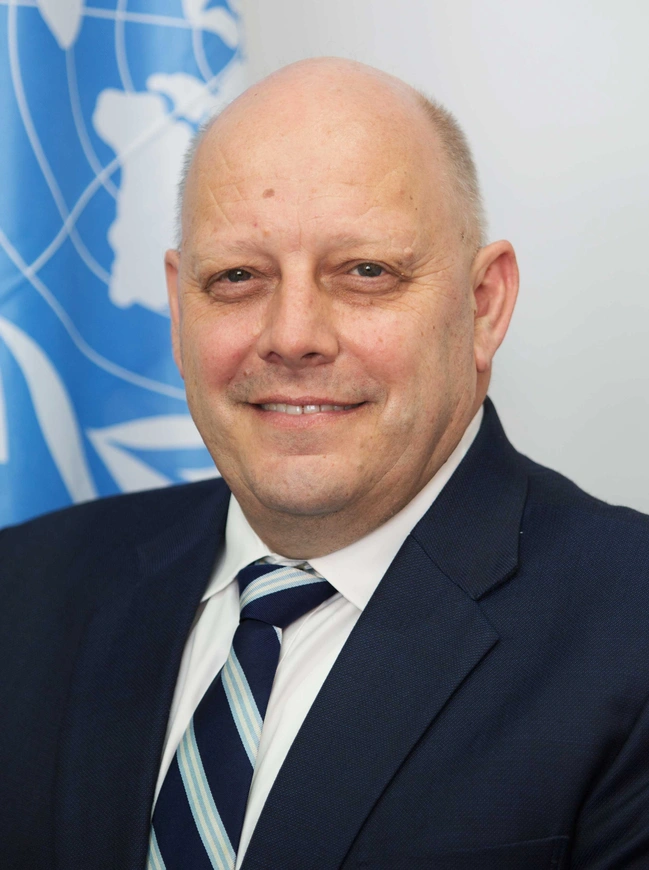 What is your definition of the Humanitarian-Development-Peace-Nexus?
Peter Batchelor: The humanitarian-development-peace (HDP) nexus is about 'Ending Need'. It is an approach that promotes greater coherence between humanitarian, development and peace programmes and financing so that all actors can target the root causes and symptoms of a crisis at the same time: meeting the urgent needs of affected people, limiting the impact of shocks on hard-won development gains, preventing escalation, while also repairing broken social contracts, and promoting a resilient recovery. By better addressing these root causes of crises, a nexus approach aims to reduce humanitarian needs over time, thereby ensuring that states, societies and communities are set on a sustainable and peaceful development path, ending crisis situations like displacement, and moving towards dignified self-reliance, as embodied by Agenda 2030 and the Sustainable Development Goals (SDGs)
Why has the triple nexus become of importance in recent years (why now)?
By 2030, 2.3 billion people will live in crisis-affected contexts. These places are already home to the world's most vulnerable people: 95% of the world's food insecure, 76.5% of the world's extremely poor, and 13.5 million refugees1. Other factors, including disasters, rapid population growth, urbanisation, migration, digitalisation, growing horizontal inequalities, corruption, violent extremism and youth unemployment inflict additional pressures on crisis-affected communities, societies and states. Now, COVID-19 is adding to these risks and reversing development gains. As a result, we are seeing the first fall in the Human Development Index since reporting began and only 18% of fragile contexts are on track to achieve the Sustainable Development Goals. A nexus approach is a recognition that these complex and multidimensional challenges cannot be addressed any one actor alone, or by continuing to just treat the symptoms of crises. Improving the effectiveness of our efforts is reliant on more complementary, coordinated and coherent approaches between HDP actors to tackle multiple and compounding risks that have a devastating impact on the world's poorest and most vulnerable – those 'furthest behind'.
Could you give a short example of how this new paradigm has changed the way UNDP operates?
As the largest development actor in the UN system, implementing nexus approaches builds on UNDP's comparative advantage. More than 60% of UNDP's budget is now spent in fragile contexts and our flexible and adaptable mandate allows us to work in a holistic way, tailored to the complex risks and vulnerabilities in such contexts. Adapting our operations to a nexus approach has included ensuring that our tools, our people, and our trusted partnerships with governments and a range of humanitarian and peace actors at local, national and global levels not only promote development, but also better address the risks that interrupt and threaten such development processes. This includes ensuring that UNDP can 'stay and deliver' before, during and after crises hit, and in tailoring our operational capacity, and strong technical competencies, to ensure that we can flexibly provide the right support, at the right time, in the right place, in partnership with others. This includes a greater emphasis on shared risk and vulnerability analysis with other HDP actors and increased joint or joined-up programming, including through cross-sectoral 'area-based' programming approaches to target the inter-connected root causes of crises. UNDP's commitment to such an approach will be reflected in a new UNDP Fragility Framework in 2021 which will also help to inform our 2022-2025 Strategic Framework.
What are the characteristics of a triple-nexus action? Which factors make an intervention a triple-nexus intervention instead of a single-issue intervention?
Operationalising the nexus involves better sequencing and layering of programming and simultaneous actions between HDP actors, on the basis of their respective comparative advantage. This includes a common understanding of risks and vulnerabilities in crisis contexts, based on shared, risk-informed and conflict-sensitive analysis, along with empowered leadership and political engagement, using the full range of diplomatic tools. It also demands programming approaches that prioritise prevention, are risk-informed and people-centred, while supporting and strengthening national and local capacities over time. This approach needs to be backed up by financing that is 'fit for purpose' and available at the right time, in the right place, and in the right way. In recent years, many of the responses to crises have been based on sectoral silos and relied on temporary humanitarian solutions, on the one hand, and budget support on the other. UNDP plays a critical role to fill the 'missing middle' – strengthening systems and capacities at local, national and global levels to address the drivers of such crises, with sustained and sustainable actions. UNDP's contribution to such an approach can be seen, for example, in recent support in Cameroon. This included a focus on supporting community-level integrated actions to build resilience and promote social cohesion and in ensuring that these actions were integrated in the Communal Plan of Development (PCD) and in the Annual Investment Programme developed in each municipality to support risk-informed, localized and nationally-led approaches.
What is the difference between the double nexus (Humanitarian-Development) and the triple nexus (Humanitarian-Development-Peace)? Is the addition of the peace-aspect not a little bit artificial, as any intervention that improves the well-being of a population automatically leads to less tension and therefore better peace outcomes?
The 2015 UN General Assembly Resolution that launched the SDGs emphasised that – «There can be no sustainable development without peace and no peace without sustainable development»2. This commitment to building peaceful and resilient societies is also reflected in the principles underlying nexus approaches, which give priority to «Prevention always, development wherever possible, humanitarian action when necessary». While a double nexus (humanitarian-development approach) highlights the need for longer term development actions to address the root causes and structural drivers of crises, a triple nexus approach ensures that all actions are conflict sensitive and work toward both the prevention of conflict and the achievement of positive peace – going beyond the absence of violence to ensuring that attitudes, institutions and structures create and sustain peaceful societies. The triple nexus also promotes the engagement of all stakeholders in building peaceful societies – both ensuring that peace-building approaches are integrated into development programming, while also ensuring that these actions are also complemented by the appropriate layering and sequencing of other peace actions, including diplomatic and security efforts. UNDP's role in these efforts is vital and our contributions include a particular focus on conflict prevention, the restoration of core government functions – including the rule of law, the strengthening of local governance, the prevention of violent extremism and, supporting and strengthening climate security.
What do you see as the biggest challenges to the triple-nexus way of working?
Affecting the shift to more coordinated and complimentary ways of working through a nexus approach involves enhanced cooperation between HDP actors, but also better alignment between governments, bilateral donors, NGOs and civil society and the UN system. This will require greater 'interoperability' and the use of shared risk and vulnerability data and analysis, along with a transformation of systems and behaviours to ensure that the right actions are implemented in the right place at the right time, backed up by appropriate resourcing. UNDP is committed to supporting and leading these efforts in its 'integrator role' across the UN system, building on our long-standing partnerships and our convening role, to act as a trusted 'bridge' between diverse actors across the HDP nexus. This will also entail support to promoting greater 'tri-lingualism' to meet the challenge of siloed approaches and actions and to build greater understanding between the different actors, based on a common set of tools and enhanced capacities to work across the nexus.
What tips would you give to small NGOs, which are operating with very limited resources and maybe do not have the capacity to fully take into consideration all dimensions of the triple nexus in their projects (in addition to all the other requirements)?
NGOs and civil society, irrespective of their size, have a crucial role to play in supporting nexus approaches – both in terms of their proximity to local communities, and as vital advocates and partners in ensuring that we meet our shared commitment to ending need. Affecting this change is not so much a resourcing challenge, but dependent on ensuring systems and approaches build on and strengthen each organisation's respective comparative advantage. For NGOs, then, this entails both contributing to and utilising a shared understanding of risk and vulnerability analysis to inform their programme design and considering how their projects both complement and are complemented by the actions of other HDP actors. This will involve building capacities of staff to better understand the different roles and added-value of humanitarian, development and peace actors, through training and support. A key element of NGO's comparative advantage will also be to ensure that actions across the nexus are people-centred and inclusive of the needs and voice of those most vulnerable – the 'furthest behind'. UNDP stands ready to work with, and support, NGOs and our civil society partners to help affect this change and address the root causes of crises, thereby reducing humanitarian demands over time and ending need.